Have you ever wondered about the role of art in connecting diverse communities and cultures?
Today, I had the distinct honor of engaging in a heartfelt conversation with Tijay Mohammed here in the enchanting ambiance of La Befana's Table.
Tijay is a Bronx-based Ghanaian-born artist who creates site-specific installations, collages, and paintings that explore the heart of his community and the essence of humanity. His interactive art is inspired by "Sankofa," a Ghanaian Adinkra symbol that means to "learn from the past for a prosperous future" and demonstrates a commitment to community, self-love, and appreciation.
Tijay and I had a serendipitous encounter during a street festival here in Harlem New York, where a chance interaction marked the beginning of a unique bond.
And in this episode, Tijay shares the heartwarming story of his iconic artwork, "Mama Ubuntu," a thought-provoking composition inspired by the Statue of Liberty. From the profound symbolism of the wisdom-laden head wrap to the meticulous detailing of significant individuals who've touched his life, Tijay delves into the symbiotic relationship between his art and its viewers.
He also talks about his series, "The Ache for Home Lives in All of Us," inspired by the story of his daughter and the concept of a safe haven within one's heart. We explore the concept of home, emphasizing that it's not just a physical space, but a feeling within one's heart.
Tijay further enchants us with the tale of the Baobab Tree mosaic, nestled in the embrace of Van Cortlandt Park, and its intention to symbolize unity and peace through broken tiles.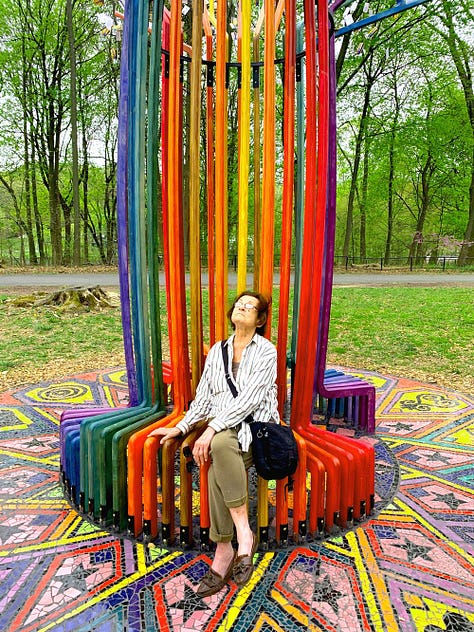 Join us as we uncover the intricate connections between personal stories and shared experiences, the power of symbols, and the collective wisdom that drives art and human interaction.
Tijays's journey as an artist shines a light on the transformative potential of creativity and connection, making this episode a captivating exploration of the human spirit and the art that flows from it.
---
Celebrate yourself and join Tijay for his ongoing exhibition at the Casita Center Maria for Arts & Education! More details here!